The Lamberty settlement
In 1964, Yvan Lamberty, a Belgian collector who was close friend with Steinlen, Jehan Rictus and Richepin, died in Saint-Marcel, near Vernon. His widow gave 50 drawings and paintings by Steinlen to the museum of Vernon.
This gift was later completed by many acquisitions. There are now 240 works by Steinlen in Vernon (third largest collection in France).
The drawings cabinet exhibits these fragile works on a rota basis. Drawings by Poulbot, Sem, Woop or Robert Noir complete this humoristic view on French society.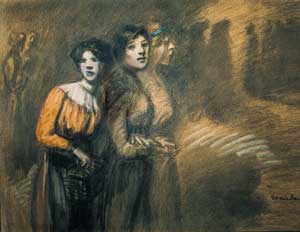 Steinlen
Three young girls
Robert Noir
Child smoking in front of a dog
Woop
Portrait of Anatole France
Steinlen
The Kiss