Archeology
From 1904 through 1928, Alphonse-Georges Poulain led several series of excavations around Vernon. Thanks to his researches, we know by now that prehistoric men dwelled in Mestreville, 10 km West from Vernon. Poulain digged rock shelters where he found a mammoth bone and testimonies of human presence.
The museum also exhibits discoveries made at the fana of Saint-Aubin sur Gaillon, in the camp of Vernonnet, from the Neolithic to the Gallo-Roman period.
See also :
The Archeological sites

Chaseen cooking pot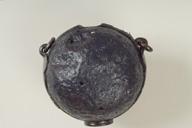 Gallo-Roman Flask
Middle Age
More recent excavations made on the spot of the ancient castle of Vernon revealed ceramics from the Middle-Age. A scale model enables to view this castle whose dungeon can still be seen on the right when leaving the museum.
The capitals and most of the statues come from the demolished churches of Vernon.
Local History
The agricultural and industrial past of Vernon is evocated through objects and artpieces, up to World War II and the Liberation of the city by Resistants and British soldiers.

Map of the fortifications of Vernon, 16th Century