by Givernet Organisation

En Francais :
Exposition Japonismes Impressionnismes
You are here:
Japonisms & Impressionisms
Exhibition 2018 in Giverny France, Museum of Impressionisms
From March 30th through July 15th, 2018
Japan opened its boundaries to western countries exactly 150 years ago, in 1868. Young artists rejecting the rules of traditional academic art inspired by the Greek and Roman antiquity were fascinated by the Far East world they discovered on Japanese woodblocks.
Very few people traveled to Japan, but many artists became avid collectors of Japanese prints. They liked the motives inspired by nature or daily life, the vivid colors of the prints, the geishas wearing kimonos... They started painting fans. Japanese artefacts appeared in the setting of their own paintings.
Above all, Japanese art proved inspiring as far as painting rules were concerned. No more symmetry but asymmetry, no illusion of volume but flat surfaces, no perspective any more...

The exhibition at the musée des Impressionnismes Giverny shows the many ways in which the impressionists and post-impressionists were influenced by japanism. It displays a stunning selection of 120 works by Monet, Manet, Pissarro, Caillebotte, Cassatt, Vallotton, Gauguin, Bonnard, Signac, Denis, Vuillard, van Gogh and by the masters of Japanese woodblocks that were collected by the painters.
Paul Signac
Woman combing her hair. Opus 227, 1892
Encaustic on strengthened canvas, 59 x 70 cm
Paul Signac
Saint-Briac La Garde-Guérin. Opus 211, july 1890
Oil on Canvas, 65 x 81,5 cm
Edouard Manet
Portrait of Emile Zola, 1868
Oil on canvas, 146 x 114 cm
William Merritt Chase
The Blue Kimono, circa 1888
Oil on canvas, 144 x 113 cm
Katsushika Hokusai
The Great Wave off Kanagawa.
Japanese Woodblock,
first of the serie Thirty-six Views of Mount Fuji
between 1829 and 1833, 24,1 x 36,2 cm
Georges Seurat
Le Bec du Hoc, Grandcamp, 1885
Oil on canvas, 64,8 x 81,6 cm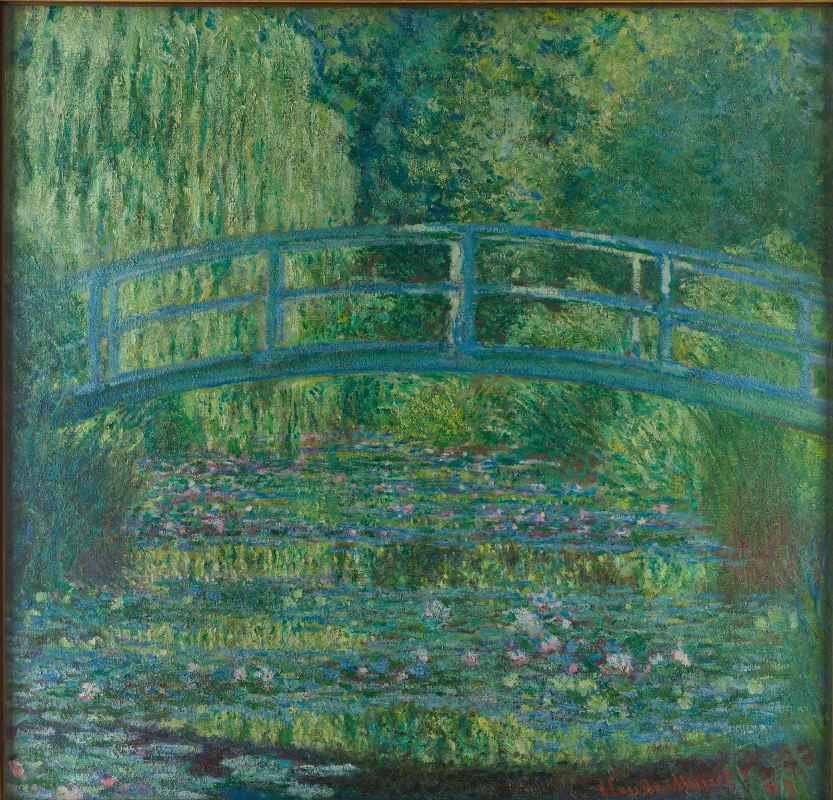 Claude Monet
Water-Lily Pond, Symphony in Green, 1899
Oil on canvas, 89 x 93,5 cm
Claude Monet, Water-Lilies, 1908
Oil on canvas, 81 cm (diametre)
Vernon, Museum of Vernon
Gustave Caillebotte
Nasturtiums, 1892
Oil on canvas, 105 x 75 cm
Maurice Denis
Regattas in Perros-Guirec, 1892
Oil on Canvas, 42,2 x 33,5 cm
Edouard Vuillard
The door ajar, 1891
Oil on cardboard, 27,5 x 22,5 cm