You are here:
Giverny by Train
From Paris to Giverny
Trains schedules and Tickets

En Francais :
Aller à Giverny en Train
Paris Saint Lazare train station by Claude Monet
Train Tickets to Giverny
The Vernon-Giverny station is located on the train line from Paris to Rouen and Le Havre.
Trains to Giverny start from the Paris-Saint-Lazare train station.
The standard time for a Paris to Giverny train ride is between 40mn and 1 hour.
There is no real seat booking and everybody get a seat anywhere.
Click here to see the schedule and buy your train ticket to Vernon-Giverny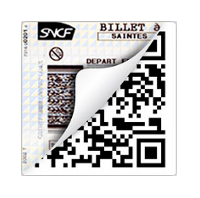 You can buy here your train ticket to Vernon-Giverny
By Train & Bus shuttle
Once you reached Vernon-Giverny train station, you are still 6km away from Monet's gardens
Please refer to How to get to Giverny for more info on the Bus Shuttle.
By Train & Car rental
As in Vernon-Giverny car rental companies are not located close to the Train Station, we recommend your rent your car in Paris, at the airport or in Mantes La Jolie, the previous train station if you are coming from Paris.
You will find there a choice of car rental companies just outside Mantes La Jolie train station that you can book online through Rentalcars
.