The day after Christmas a terrible storm blew over the North of France. Normandy was particularly hurt. Millions of trees were uprooted. Lots of them fell on houses, cars, phone or power wires. Everywhere fallen trees were blocking roads and railways. When they fell into rivers they lead to floods... Chimneys fell, roofs flew away. Power was cut up to 10 days and brought about dramatic consequences.

As soon as power came back, we realized that dozens of Giverny friends had written to us asking how things were here. That's why we took these pictures a week after the storm. The area had already been largely cleaned up.

No problem if you want to come this year : you will notice that the landscape is not much affected. The gardens of the area will display the same splendour as the other years as soon as Spring comes back.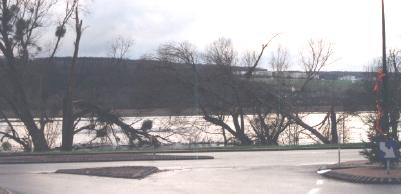 At the entrance of Giverny.
The flood of the Seine river and the Epte river
reaches trees broken by the wind.