by Givernet Organisation

En Francais :
Exposition Giverny 2023
Renoir à Guernesey, 1883.
You are here:
Renoir in Guernsey, 1883
Exhibition 2023 in Giverny France, Museum of Impressionisms
From July 14th to September 10th, 2023
The Musée des Impressionnismes Giverny is celebrating the 140th anniversary of Renoir's stay in Guernsey.
In September 1883, Pierre-Auguste Renoir spent five weeks in the little Channel Island of Guernsey, off the coast of Normandy.
Inspired by the beautiful seascapes, he depicted rocks, waves and bathers in around 15 paintings. Le Moulin-Huet, his own vacation spot, appears on several of them.
Renoir explored new techniques and started painting nudes in the landscape in Guernsey. He liked the way men and women used the rocks as cabins to dress and undress. On his paintings, characters seem to be part of the landscape.
In addition to the works by Renoir, the exhibition illustrates life on the island of Guernsey at that time, in 1883.
The exhibition is organized in collaboration with "Art for Guernsey" and "Guernsey Museums & Galleries".
Like every summer, the galleries also display part of the permanent collection of the Giverny museum, especially a selection of seascapes by various impressionist and post-impressionist painters.
Pierre-Auguste Renoir
Rochers de Guernesey avec personnages (plage à Guernesey), 1883.
Huile sur toile, 46 x 56 cm
Art for Guernsey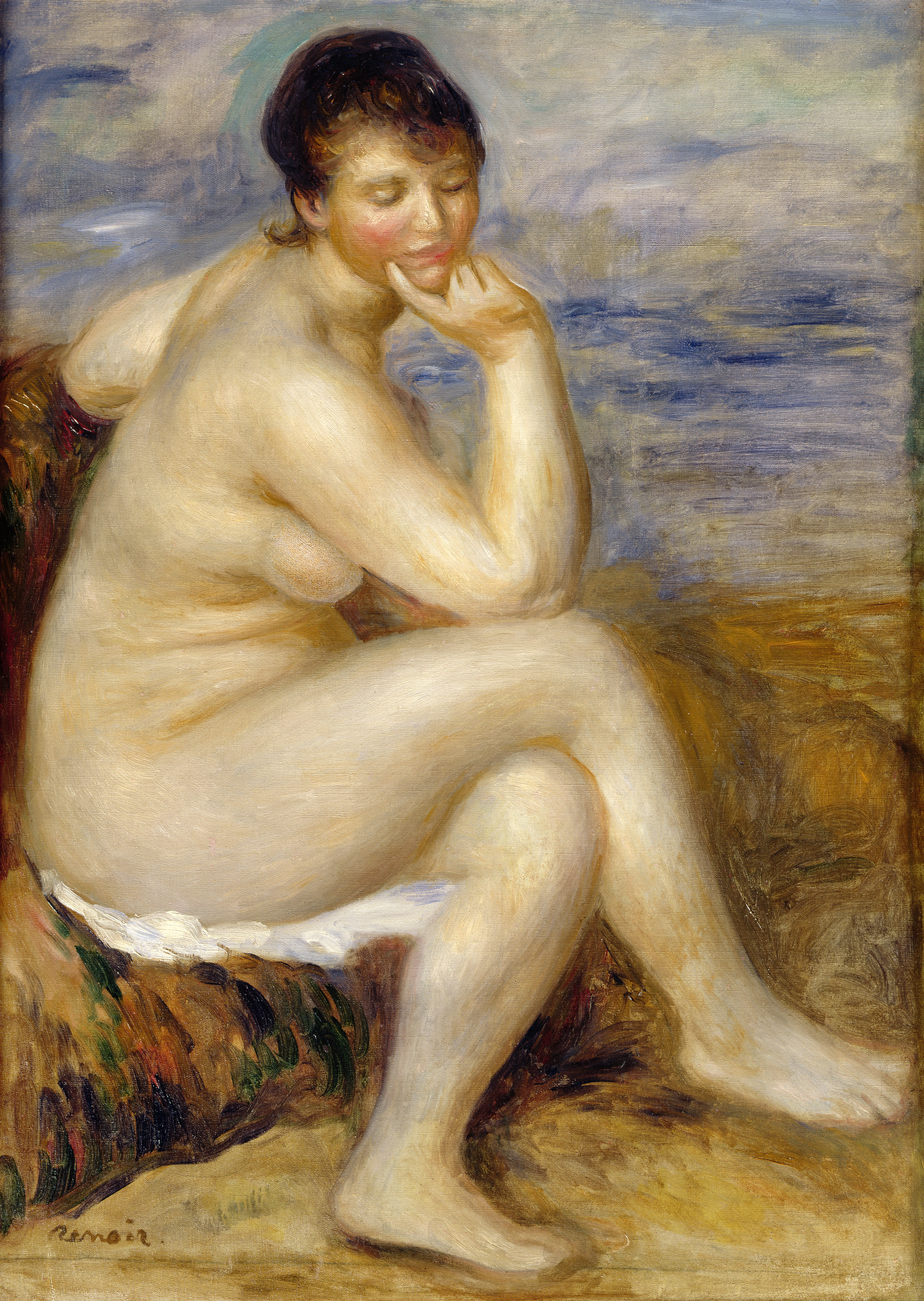 Pierre-Auguste Renoir
Baigneuse assise sur un rocher, vers 1883.
Huile sur toile, 54 x 39 cm
Paris, musée Marmottan Monet
Pierre-Auguste Renoir
Baie du Moulin Huet à Guernesey, 1883.
Huile sur toile, 29,2 x 54 cm
Londres, The National Gallery
mu