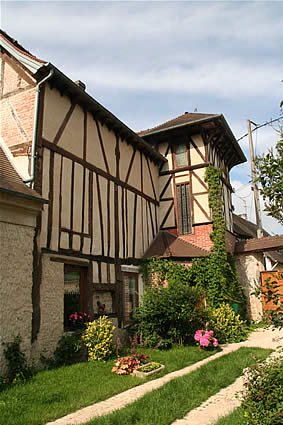 Gentilhommiere of Normandy, Entrance
Comfort above all: Christiane and Jean-Pierre took advantage of restoring this 17th century post house to equip the three guest rooms with air conditioning, hydrommassage showers and wifi internet access.

They preserved the norman charm of their manor surrounded by a large garden. The village of Sainte-Barbe is located next to the small town of Gaillon, half-way between Monet's gardens in Giverny and the stronghold of Richard the Lion Heart Chateau-Gaillard in Les Andelys.

You will have breakfast near the log fire or in the open according to the season. You will taste the eggs from the chicken yard, served with fresh bread often baked by Jean-Pierre himself.

Take the time to have a chat with your hosts: they will tell you where was the tunnel that linked the post house with the castle of Gaillon, perhaps enabling the lord to flee discreetly if necessary...

They will also be able to recommend all what there is to see or to experience in the area: the golf course of Gaillon or the recreational swimming-pool are at a 5 minutes drive only, unless you prefer horse-riding, angling, walking, karting, quad, canoeing or ice-skating. Billiard and table tennis are available on site... as well as deck chairs!

Closed car park in the estate
Pets are not admitted excepting small she-dogs.