You are here:
La Couture Boussey Manor
Jocelyne & Jean Defond
6 Allee des Promenades
27750 La Couture Boussey
France
Information and booking online


En Francais :
Le Manoir de La Couture Boussey, chambre d'hôtes
Peacefull Manor Guest house located 27 km south-west of Giverny. Five rooms in the Manor house and a self catering vacation rental in a Chalet are open to guests in the middle of a gorgeous three hectare park borderd by a wood.

Room rates for 2, breakfasts included: €90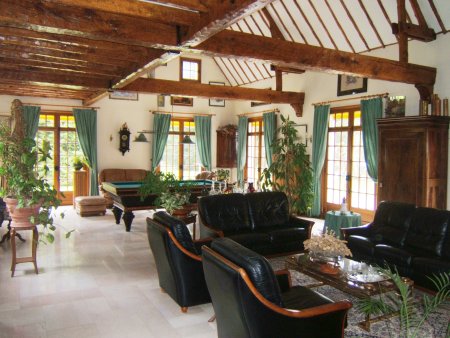 The Grand Salon at Manoir de La Couture Boussey
Total peacefulness: the Manoir of la Couture is surrounded by a gorgeous three hectare park, and it is bordered by a wood.
When you arrive at the front gate, you make out the house behind a few pine trees. The architect who designed it forty years ago was inspired by norman features, half-timbered walls, small tiles, dormer windows, to compose sort of an ideal cottage ennobled by a funny stone turret.
Inside, the large salon and the billard are a nice place where to relax. Upstairs, the five cosy rooms are very comfortable. Decoration mixes norman furniture with exotic objects to offer an appealing rich-looking style.
Breakfast is served in the magnificent Empire dining-room or on the terrace with view on the park on sunny summer mornings.
Delicious home-made cake, crepes, ham or sausages, eggs, camembert...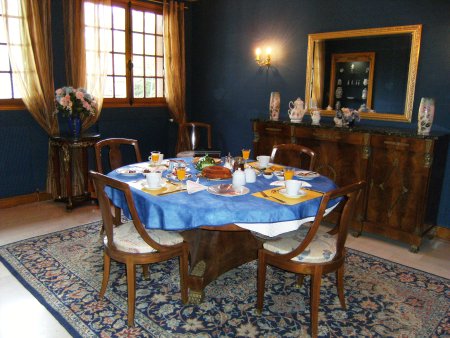 Breakfast at Manoir de La Couture Boussey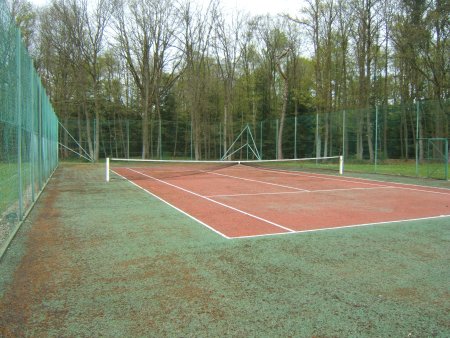 Tennis Court at Manoir de la Couture
If you are fond of sports, you will play tennis on the court at the guests' disposal, run in the nearby wood or canoe down the Epte river. The beautiful golf course of Nantilly is only at a five minute drive.
Musicians will be passionate by the wind instruments museum in the very village of la Couture-Boussey. Clarinets and oboes have been made here for several centuries.
In the surroundings the troglodytic cellars of a famous brand of Calvados are worth visiting, as well as the chateau d'Anet, or last but not least, the gardens of Giverny at about 30 kilometers.
Closed car park in the estate
No pets in the B&B
Romantic Room
Upstairs, in the turret
Four posted double bed 140 x 190cm
En suite bathroom with bath, shower and toilet.
2016 rate per night, breakfast included

1 person: 65 euros
2 persons: 90 euros
Additional bed : 25 euros
Free baby cot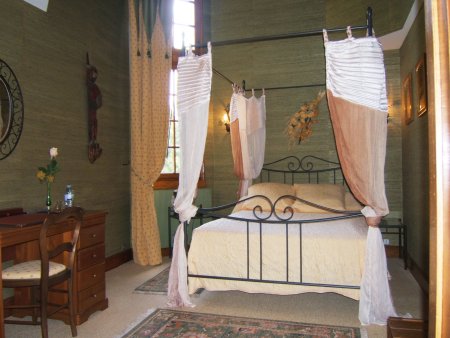 The Romantic room at Manoir de la Couture Boussey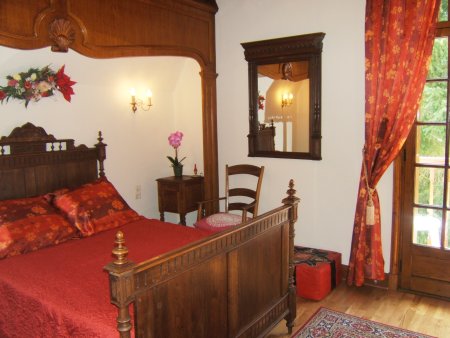 Retro Room at Manoir de la Couture Boussey
Retro Room
Upstairs, balcony
Double bed 130 x 190cm
En suite bathroom with balneo shower and toilet
2016 rate per night, breakfast included

1 person: 65 euros
2 persons: 90 euros
Additional bed : 25 euros
Free baby cot
Rosemary Room
Upstairs, wide bedroom with two windows
Double bed 140 x 190 cm.
En suite bathroom with balneo bath, balneo showerand toilet
2016 rate per night, breakfast included

1 person: 65 euros
2 persons: 90 euros
Additional bed : 25 euros
Free baby cot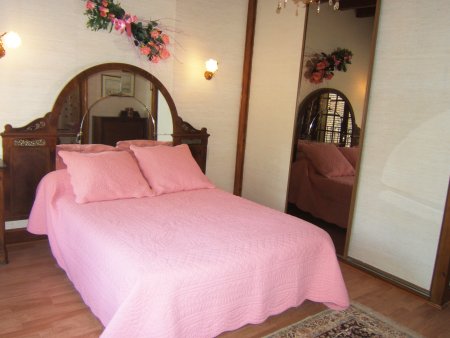 The Rosemary Room at Manoir de la Couture Boussey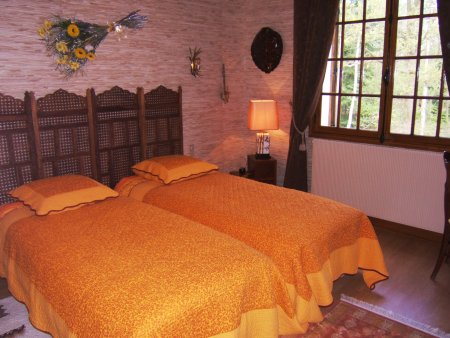 The Exotic Room at Manoir de la Couture Boussey
Exotic Room
Upstairs
Two single beds 90 x 190cm
En suite bathroom with balneo bath-shower.
Second en suite shower room.
Toilet
2016 rate per night, breakfast included

1 person: 65 euros
2 persons: 90 euros
Free baby cot
Jacaranda Room
Upstairs
Double bed 140 x 190 cm.
En suite bathroom with bath, balneo shower andtoilet
2016 rate per night, breakfast included

1 person: 65 euros
2 persons: 90 euros
Additional bed : 25 euros
Free baby cot
The Jacaranda Room at Manoir de la Couture-Boussey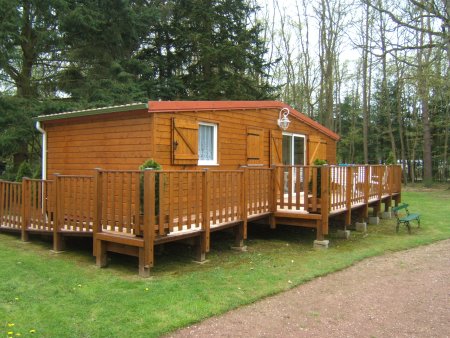 The Chalet, wheelchair accessible lodging in the area of Giverny
The Chalet
Independent chalet, 40 m2, wheelchair accessible:
Room with double bed 140 x 190cm
Room with bed-settee for two people
Living room with open-plan kitchen
Washroom with shower and toilet
Terrace with garden furniture, 25 m2
Pets are admitted in the lodging
Car park in front of the chalet
Rate 2016
Low Season
October through May
High Season
June through September
Week
250 euros
350 euros
Week-end
100 euros
150 euros
Mid-Week
150 euros
200 euros
Deposit 250 euros
Non smoking lodging
Optional departure cleaning: 30 euros
Optional supply of sheets and towels: 25 euros per set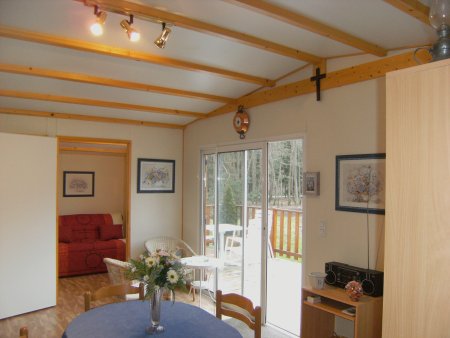 Inside the Chalet at La Couture Boussey Manor Guesthouse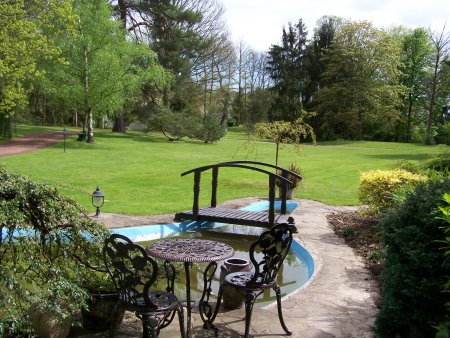 View of the park at Manoir de la Couture
Booking:
Information and booking online

Availability and Booking Request Form