Monet's garden, Giverny, Photo Ariane Cauderlier
English Guided Tours of Monet's Garden
by Local Licensed Guides-Lecturers

En francais :
Visite guidée des jardins de Monet
Auf Deutsch :
Führung von Monets Gärten

En español :
Visita guiada de los jardines de Monet

Ariane
Patricia
Follow in Monet's footsteps with your private guide
Every day from April 1st, 2020 to November 1st, 2020 we are at your disposal to guide you in Claude Monet's wonderful gardens at Giverny and to unveil for you the charm of his home.
Flat rate 2020 for 1 to 25 persons : 190 euros
Duration: from 1hr15 to 1hr45
Our meeting point is the Group Entrance.
By appointment only, time at your convenience.
Tickets are not included. They can be purchased on line or be provided by your guide if required.

For more information on guided tours please check the FAQ (Frequently Asked Questions)

Giverny Claude Monet's Bridge, Photo Ariane Cauderlier
Guided Tour for Groups of 20 people or more:
Book your time slot with Monet's Foundation,
then book your guided tour of Monet's gardens here: Guides-Lecturers of Giverny
Guiding fees : 190 euros for the group.
This rate does not include admission tickets. They can be purchased at the Group Entrance: + 8 euros/person.

The guiding fees are to be paid to your guide (by cash or transfer or paypal, we can't handle credit cards).
Tour Duration: 1 hour 15 to 1 hour 45. The group will need some additional free time to visit Monet's house and enjoy the site.
Groups over 25 people will have to be divided. Count 1 guide for 25 people maxi.
Because of the small rooms it is not possible to guide inside Monet's home. Explanations will be given outside, then you will visit the house on your own.
The Visit
During our visit of Fondation Monet at Giverny, you will realize why these places inspired the master of Impressionism. You will cross the famous Japanese bridge and stroll around the waterlily pond to observe the ever changing reflections on the water surface.
Then you will get back to the Clos normand, the gorgeous flower garden blooming from spring to fall. You will learn how Monet himself designed it by applying his skills for painting to gardening.
The house looks exactly as it did on Monet's times, with the studio-sitting-room, Monet's and Alice's bedrooms, the yellow dining-room with its suprising collection of Japanese woodblocks and the kitchen decorated with blue tiles.
Your guide will tell you about the way Monet transformed it to his own style. Thanks to many details about Monet's family life in this very place you will take a leap backwards to the 19th Century.
Giverny Claude Monet's Flower Garden - Photo Ariane Cauderlier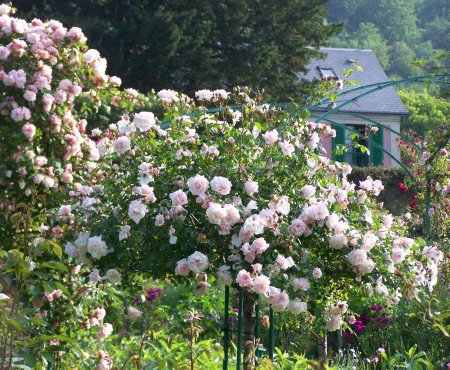 Giverny, Claude Monet's Rose Garden, Photo Ariane Cauderlier
Useful Information
All the appointments are at the Group Entrance which is located in a lane (sente Leroy) at the bottom of the gardens near the road D5 (chemin du Roy).
You will be asked for a guarantee when you book your guided tour. Should you cancel 30 days or more before the tour, your deposit will be refunded except for banking fees. No refund in case of cancellation less than 30 days before the tour.
Monet's Gardens are wheelchair accessible. But the house has many steps. Fondation Monet has a few wheelchairs but it is better to come with your own.
After the guided tour you will have time to take advantage of the gardens as you like till closing time. It is recommended to take pictures and videos at your leisure before or after the guided tour.
The tour takes place in any weather. Take an umbrella, a bottle of water and wear warm clothes if necessary (it may be chilly on the waterside), and comfy shoes.
Ariane Cauderlier
is a free-lance professional guide-lecturer. She is licensed for English, German and French.
A former journalist, Ariane became a guide because of her passion for Claude Monet. She specializes in Giverny where she comes daily, living nearby. She likes to share her enthusiasm for Monet's gardens!
If you are a keen gardener, tell her and she will tailor your tour to match your interest.
Ariane still loves writing and taking pictures. Follow her on her blogs: Giverny News in French, Giverny Impression in English.
Ariane is the author of a book of commented pictures on Vernon and Giverny, and of a perpetual calendar Giverny 365 Flowers.
Keen on developping Monet's and Giverny's image, Ariane founded the Association GiVerNet. She is the editor of several websites devoted to Monet, especially giverny.org and intermonet.com.
" I was blown away by the masterpiece created here by Monet. Our guide, Ariane could not have been more charming. She floats through the garden imparting knowledge as she goes. It's obvious she loves this place and finds interest there each day, you can't help but to be drawn in.
We've done many private tours whilst we've been in Paris and I wouldn't recommend some of them, however I highly recommend a private tour with Ariane in this case. We would not have learnt so much or enjoyed the day as much without her." IPS. Sydney, Australia
"Dear Mme Cauderlier, On behalf of our group we wish to thank you most cordially for your excellent guided tour of the gardens last Friday morning. We all enjoyed your commentary and your company very much and we had a truly wonderful time in the gardens." Ellen W. GB
"Bonjour Ms. Cauderlier, We had the pleasure of one of your guided tours. I just wanted to thank you for a wonderful experience. It was one of the highlights of our trip to France. I will recommend it to any of our friends who are traveling to Paris." Peggy and Patrick C. USA
"Bonjour Ariane, thank you for making our visit to Monet's Garden so memorable. Visiting the garden with you gave us a good insight into the Artist and explained why he designed and planted his garden to provide the different scenes and atmospheres. The tour was highly informative, and your enthusiasm for Monet was obvious. A lovely way to spend my birthday." Adrian, Jenny C, Max, Jennie B.. USA
"Dear Ariane, Being with you to guide us through Monet's garden and his life was a highlight of our trip to Paris. You are a captivating storyteller and your knowledge and love of trees and flowers, especially Monet's garden, are highly contagious. We feel lucky to have met you and spent such priviledged time with you!" Thomas and Suzy K. USA

Patricia Rynski d'Argence
is a free-lance professional guide-lecturer. She is licensed for English, German and French.
From Giverny to Honfleur, Patricia knows the Seine valley inside out.
In addition to her job as a guide, Patricia is a keen painter. She lives close to Giverny, an inexhaustible source of inspiration!
Patricia gives watercolor lessons and talks about the Impressionists.
"Patricia, We had such a nice time with you ! many thanks for your interesting comments during our trip on the river Seine" Mrs McL. Los Angeles, CA
"Bei vielen Leuten, verschiedene Interessen und diverse Führungen -sei es Kirchen, Kunst, Lebensgewohnheiten, Natur, usw - ist es nicht selbstverständlich, dass alle aufmerksam dabei sind : Patrizia ist es doch gelungen ! Wir haben dadurch wunderschöne Eindrücke gewonnen !" Jürgen und Rosemarie K. Hamburg Allemagne
FAQ about Guided Tours with Ariane or Patricia
How will we recognize one another?
Our meeting place is the Group Entrance of Fondation Monet. Kindly tell the guard that you have an appointment with Ariane/Patricia. Your guide will come towards you at her arrival.
Where is the Group Entrance of Fondation Monet located?

The Group Entrance of Fondation Monet is situated in a lane called ruelle Leroy. This lane slopes up on the left side of the garden when you are on the road D5 (Chemin du Roy).
Walking from the parking lots next to the round-about, follow signs entrée Groupe / entrée coupe-file.
Warning : you can't be dropped at the Group Entrance. Stopping with a vehicle is forbidden. The driver can drop you at the Entrance for individuals (materialized with French flags). Walk along Monet's house to the right and walk down ruelle Leroy to the Group Entrance.
How will the tour go?

We'll start by the water garden, where Monet painted his famous Nympheas. We'll walk around the pond and stop by the Japanese bridge. Then we'll come back to the flower garden that we'll cross gently to end the tour in front of Monet's house. Along the tour we'll stop often for commentaries or simply to admire.
How long does the tour last?
On average an hour and fifteen minutes to one hour and forty-five minutes depending on crowds.
Is Monet's house included in the guided tour?
As the rooms are small, it is not allowed to guide inside Monet's house. Your guide will talk about it in front of the facade, and it will be the end of your tour with her. Then you will go on your own to see the inside.
Is the guided tour appropriate for gentle walkers ?
Yes, the rhythm is slow and it is possible to sit down from time to time. Fondation Monet has a couple of wheelchairs possibly for lent. It doesn't fall into the guide's remit to operate the wheelchair.
Is the guided tour adapted to children?
In case of a family tour, the commentary takes into account the age of the children. Their pleasure at the tour will be even greater if it has been prepared (books or videos, paintings...). Recommended age : from 6 on. Children are under the responsibility of their parents who will see to it that they keep calm during the tour and respect the premises and the other visitors. (no stepping on the flower beds or lawns, no running, etc).
Can I stay in the garden after the tour?
Yes, you can enjoy Monet's house and gardens until closing time (6.00pm) if you like. But it is not allowed to exit and re-enter later the same day, for instance to go for some lunch. In this case you would have to pay for your admission again.
Can I have a picnic in the gardens?
No, picnics are not allowed : it's a museum. There are lots of nice picnic places in the surroundings, some of them with tables and benches along the river Seine or Epte. Giverny has also several restaurants for a fast meal, a traditional menu or a gourmet treat.
Are pictures allowed during the tour ?
Pictures are not forbidden, but Monet's gardens are so beautiful that you will probably want to take many shots. It is better to make them quietly before or after the tour to take advantage of your guided tour.
Copyright / image right
In accordance with copyright law, it is forbidden to record the lecture. This is why you are kindly requested not to use any kind of video recorder during the tour. Please also refrain from taking a picture of your guide.

Are bathrooms available during the tour ?
The toilets of Fondation Monet are located next to the exit, therefore they won't be on our way during the tour. Free public toilets are available in the parking lot Le Verger in front of the tourist office.
What happens if it rains the day of the tour?
The tour still takes place, unless it could be dangerous (severe orange or red weather warning by Meteo France). Monet's gardens are very enjoyable to stroll around when it is drizzling, the light is beautiful and it is less crowded. You will need waterproof clothes and an umbrella per person.
Should the tour be cancelled because of dangerous weather, we would try to re-schedule it. If it is not possible, the guarantee will be refunded.
And if I'm late?
Please call your guide as soon as you realize you are running late. Maybe we'll be able to postpone the tour later the same day.
To travel from Paris, count two hours at least to get out of the city and drive the 50 miles to Giverny. From the exit 16 on the highway A13, it is still 20 minutes to Giverny. It is wise to have plenty of time, you will appreciate not to be in a hurry and having time for a rest before the tour. If you get to Giverny real early, you can explore the lovely village of Giverny, the museum of impressionisms and its garden, and the church were Monet is buried.
In high season, your guide will probably give several tours a day.
If you are late and it is not possible to continue after time or postpone the tour, it will have to be shorter.
However, without any news from you, your guide is not supposed to wait for your for more than 30 minutes. In this case, the full amount of the tour will be charged.
In which language is the guided tour?
In English unless you request a French or German or Spanish guided tour. The tour is not bilingual.
What is the cost of the tour?
A privately guided tour for your family or your group up to 25 people costs 190 euros.
Admission tickets are not included. Your guide can provide them, or if you prefer you can buy them online, and thus be able to enter the gardens before the tour.
Do you accept credit cards ?
The deposit can be paid by transfer or by paypal.
For the balance we're sorry we can't handle credit cards. The balance can be paid in cash in euros the day of the tour. We also accept checks in euros on French banks.
What is your cancellation policy?
Cancellation is free of charge up to 30 days before the tour. Your deposit will be refunded except for banking fees.
If you must cancel the tour less than a month before the date of the tour, the deposit will not be refunded. In case of a no-show, the full amount is charged. We may relax these conditions in case of absolute necessity (transportation strike, riot, hurricane...).
If your guide is sick and can't find a substitute colleague and can't postpone the tour, the deposit will be refunded. Please provide a cell phone number where to call you in case of necessity.
Can I come with my dog?
Dogs are not allowed in Fondation Claude Monet except for guide-dogs.

Giverny Claude Monet's Home, Photo Ariane Cauderlier